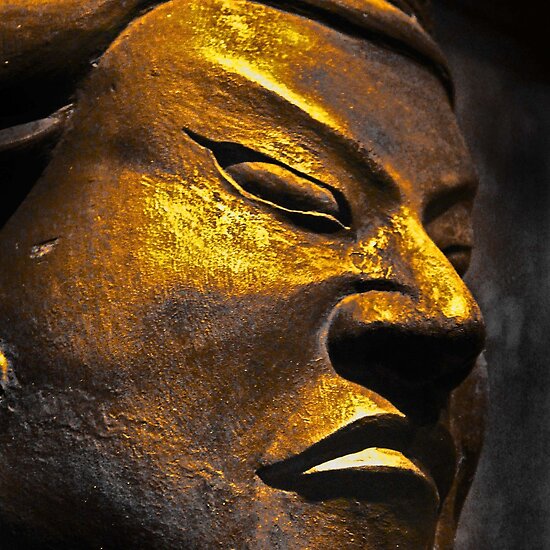 A Buddhist  is often stereotyped as a passivist. By extension, a Buddhist writer may be generally conceptualized as placid in both content and rhetoric. Right Speech, a factor in the Eight-fold Path to Enlightenment, may suggest as much.  Right Speech is generally described as "Clear, truthful, uplifting and non-harmful communication."[i] This, itself, is clear, truthful and, perhaps, uplifting. Yet, Right Speech is often misinterpreted when it comes to the meaning of "non-harmful communication." Myths and stereotypes about Buddhist passivity, combined with the peaceful and sober connotations that come with the term "Right Speech," would strongly suggest that harmful communication could never be tolerated by a writer that would don the label "Buddhist." However, in the Mahayana tradition there is a time and place for abrasive language, agitating language, demanding language—as long as loving kindness and compassion are motivating factors. There may be times when calm, composed speech may do more harm than good. Thus, persuasive writing, from a Buddhist perspective, can be split into two concepts: shoju and shakubuku.
Shoju is a form of communication in which one "gradually leads another to the correct teaching according to that person's capacity and without refuting his or her attachment to mistaken views."[ii] This is to say that when a person or group of people hold a belief you know to be false and/or detrimental to their well-being, you lead them toward the truth while taking much care not to offend them or turn them off. For example, when I know a friend is behaving in a way that may result in misfortune for himself and others, I may ask leading questions to get him to come to his own conclusions about the detriments of his behavior. I may ask, "Are you sure racial profiling is okay?" or ask, "You seem to agree with capital punishment, but have you heard of some other ways to deal with convicts?" or say, "I wonder what a three-party political system would look like in this day and age." The indirection and offhanded nature of this line of questions or statements is done based on a communicator's interpretation of the audience's character, demeanor and level of understanding.  A Buddhist writer, then, may write with a speculative tone, guiding the readership to consider alternative viewpoints.
Shakubuku, on the other hand, is more in line with refutation and a strong stand for or against something. Shakubuku is meant to "suppress others' illusions and to subdue their attachment to error or evil."[iii] When people are causing harm to themselves and others, either accidentally or purposely, directly or indirectly, shakubuku must be employed. When a writer cares about the well being of a person or group, but shoju has no effect on suppressing any dangerous or immoral behavior threatening that well being, a writer must compose in a way that will get people's attention. A more contemporary colloquialism for this concept is "tough love": harshness toward a "loved one" for the purpose of turning that person toward a healthier and happier lifestyle. A writer in line with shakubuku may remind one of an agonistic yet compassionate op-ed writer whose work is meant to stir emotions and force people to think about things they would rather ignore.
Shakubuku is not antithetical to Buddhism, especially if you consider that a Buddhist writer, out of pure compassion for his audience, may realize that harsh words are the only way to guide readers toward enlightenment. Daisaku Ikeda, a Japanese Buddhist scholar, writes that Buddhahood does not mean getting rid of emotions like anger and frustration, but making the best out of them.[iv]  In Buddhism, anger need not be avoided; it can be channeled into a tool of enlightenment, a way showing love and compassionate.
One can already see this in Blogs and Social Network sites where people may use intense, if not harsh, language to get readers' attention or move them to action. Anger, frustration, or disappointment is channeled into an attempt to change the world for the better—to benefit both victim and perpetrator. This is shakubuku. This is Buddhism.
So, rest assured that to be a Buddhist writer is not to squelch a passionate reaction to an injustice. It is the complete opposite. One must address that injustice in whatever way one sees fit—shoju or shakubuku—for the good of all.
---
Related Posts:
—
All writers are trying to relay a message; this is nothing distinctly religious. However, Buddhism expresses that the mode of doing this, the ability to do this well, is a key characteristic of a Bodhisattva. In The Lotus Sutra, the Buddha says to his disciple, Shariputra,
Shariputra, the Buddhas teach the law with accordance with what is appropriate, but the meaning is difficult to understand. Why is this? Because we employ countless expedient means, discussing causes and conditions using words of simile and parable to expound the teachings. The Law is not something that can be understood through pondering and analysis. Only those who are Buddhas can understand it. Why is this? Because the Buddhas, the World Honored Ones, appear in the world for one great reason alone. … They wish to induce human beings to enter the path of Buddha wisdom, and therefore they appear in the world. [1]
So, it would seem that the Buddha, a being more enlightened than anyone on Earth at the time of this speech, cannot succeed at fully explaining himself—what it is to acquire enlightenment to the point of Buddhahood. All he can do is guide us along the path so that we can, on our own, become enlightened. Buddhist writers must see themselves as guides who lead their audiences toward a message.
The Lotus Sutra is full of thoughts on the necessity for a speaker or writer to gauge his or her audience and speak or write accordingly. The chapters titled "Expedient Means" (a synonym for rhetorical skill) and "Simile and Parable" express this point explicitly.
So how should this inform us as writers? A writer with a Buddhist sensibility will consider his or her audience first and foremost. The message one wants to convey must be shaped and tempered by this consideration. For example, if you want to convey the message that xenophobic tendencies are more detrimental to the xenophobe than to the objects of his xenophobia, but you feel your audience may consist of people who are not even aware of this concept or that relating to the "Other" is even possible, you must start with a story, essay or poem that relays the definitions of this concept in understandable and retainable ways. Your initial message about xenophobia must be put on the backburner, saved for another literary endeavor.
The Buddhist writer, then, must have sincere compassion for his or her audience, even if that audience is dastardly and blindly prejudiced toward anyone different from themselves. The Buddhist writer must know that every person harbors a Buddha nature and must attempt, to the best of his or her ability, to reach that Buddha nature. The message, in a sense, is secondary to consideration of the audience one is trying to reach.
So, Buddhist writers should always ask themselves this question before they write: "How can I best convey my message without alienating my audience?" This is not an easy task, but what in this samsara world is?
[1]Watson, Burton (Trans). The Lotus Sutra. New York: Columbia University Press, 1993. Print.
—
Erec Smith is a college professor and author of the novel, Creamy Nougat.  His scholarly and literary interests revolve around the confluence of Buddhist philosophy, teaching and rhetoric. Follow Erec on Twitter»
Related Posts: