I saw a unique Buddha statue at a Zen Center once, somewhere in Upstate New York, sometime in the 90s. They called it the American Buddha, if I remember correctly. The body and the face were cracked, fractured, pieced together and sculpted to appear incomplete, unformed, barely holding together. The face and the body were gender neutral. The image of this American Buddha appeared, from every angle, from any perspective, blurry and unsure.
Every Buddhist culture has its unique Buddha statue, an image of the master teacher that reflects the regional culture as the philosophy has absorbed it. When the teachings left India, moved into China and then Japan, for instance, Indian Buddhism absorbed the local wisdom, from Confucius and Lao Tzu and Shinto and the Bushido Samurai code, to ultimately become Zen—one of the two Buddhist traditions that have formed me into the American Buddhist I am. I have one Dharma foot set squarely in Japan.
When the teachings left India and moved into the mountains, Indian Buddhism absorbed the Shamanistic imagery and rituals of the Himalayan cultures. I have my other American Buddhist foot planted squarely in that tradition—particularly the Gelugpa School, presided over by another master teacher: His Holiness the 14th Dalai Lama of Tibet.
"This American culture is so fractured, always shifting, convulsing," the Zen Master in Rochester explained. "Our statue is meant to reflect that still unformed potential. The cracks can be seen as openings, possibilities to practice and refine our American Buddhism."
In my home there have always been two statues: a smooth-lined, organic Japanese Zen Buddha, and an ornate, Shamanistic Tibetan Buddha. Both the Zen tradition of contemplation, of just sitting, and the Tibetan tradition of deep scholarship, contemplative study, have equally appealed to me in my twenty year Buddhist practice. But in my real American Buddhist life, in the way I live the teachings, I'm more like the fractured Buddha of Upstate New York. I've pieced together my own Dharma over the years. I threw myself into Yoga and a few martial arts, simply because they contained seeds of the Buddhist spirit. I found scattered teachers, both Tibetan and Zen, all over the Garden State. I went on spiritual retreats. I took Bodhisattva vows. I dedicated my life to defeating human ignorance, to being a light for others to glimpse in the darkness. I'm a poet. We're often dramatic.
Lately, my practice has become much more simple, quiet, private. I try to make it to the Village Zendo whenever I can. I listen to talks on their podcast several times a week. I meditate daily, for the most part. I slowly study various translations of Lao Tzu, every night before bed. In the mornings, I contemplate the mind training slogans of Atisha—the great Indian Buddhist Master.
I've been a serious Buddhist for over twenty years, and still some of the people closest to me—friends and family—consider it just a phase, or something to mock. It's a realization that, when it really hits me, often breaks my heart.
I am a fractured Buddhist, living in New Jersey, USA, and I'm still grasping.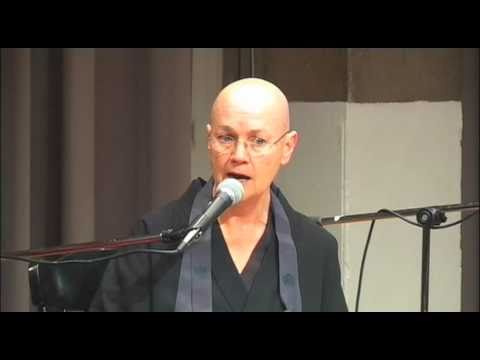 Related Posts: